Overview
What is the Concept of
International Fisheries and Ocean City?
Hakodate is located amid excellent geographical and natural conditions where three different ocean currents meet, the Tsushima current, the Liman current, and the Oyashio (Kuril) current. In this city, many academic research institutes associated with fisheries and oceans along with related industries gather together.
The Concept of International Fisheries and Ocean City was formulated in March of 2003 with the goal to form an international core academic research city of fisheries and oceans by taking advantage of the wide variety of resources and potential related to fisheries and the ocean around this region. This concept also aims to contribute to enhancing our country's science technologies, while activating the regional economy based on a generation of innovative technologies and new industries. In June of the same year, a council was then established. Since then, the local government, industries, and academic institutes have worked together to promote this concept.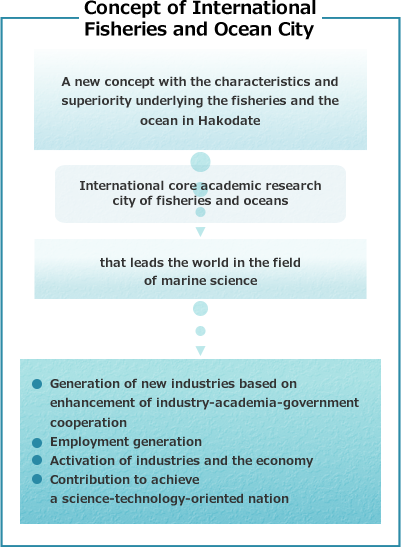 History of Concept of International Fisheries and Ocean City
June 2002

The Hakodate Creative Marine Science Study Group was established
March 2003

The Concept of International Fisheries and Ocean City was formulated
June 2003

Reorganized as The Council for Promotion of the Concept of International Fisheries and Ocean City of Hakodate
August 2003

Certified as a Special District for Marine Frontier Science and Technology Research
June 2004

The revival plan for the promotion of regions for the Concept of International Fisheries and Ocean City was approved
October 2005

1st Ocean Week was held
April 2006

The use of the Hakodate City Industry-Academia-Government Exchange Plaza began
April 2007

The Hakodate Marine Science Laboratory opened
February 2008

A commemoration ceremony was held for the commencement of the wharf construction project of the Benten area in the Port of Hakodate
April 2009

The Council for Promotion of the Concept of International Fisheries and Ocean City of Hakodate was developmentally reorganized, and Fisheries and Oceans Hakodate was established